Kapawi Lodge

4 days / 3 nights from € 999 pp
Visit a special kind of eco-tourism project that is being implemented in cooperation with the Achuar indigenous tribe. The Kapawi Nature Reserve has set itself the task of integrating the Achuars into ecotourism while preserving the area's cultural heritage and biodiversity. The long-term goal is for the Achuar Indians to continue running the Kapawi Lodge on their own responsibility from 2011 onwards. Before the start of this project, most of the Achuars in this community earned their living from cattle and agriculture (and the associated slash and burn). Today over 50 Achuar Indians are already involved in the eco-project and the number is increasing.
A flight of approx. 90 minutes takes you from Quito to the southeast of Ecuador, to Guayusentsa. From there it is about two hours by motorboat on the Rio Capahuari before you reach the Achuar area, where the Kapawi project is located. The Kapawi Lodge has 20 quite comfortable bungalows, equipped with private bath / shower and terrace. The entire lodge is built in the typical Achuar style without a single metal nail. Solar energy provides electricity.
Features

The restaurant offers good national and international food, exotic fruits, soft drinks as well as snacks or packed lunches for on the go.
The tropical rainforest here is characterized by a wide range of ecosystems. Rare animal species that have become extinct in other areas of the Amazon still occur here, such as freshwater dolphins, capybaras, giant otters and large wild cats.
Kapawi does not offer any fixed programs. Your English-speaking tour guide will arrange an appropriate program with you according to your wishes, interests and condition. You will also be accompanied by an Achuar Indian on the excursions. Easy hikes of around 3 hours in the vicinity of the lodge, canoeing, bird watching and much more are possible.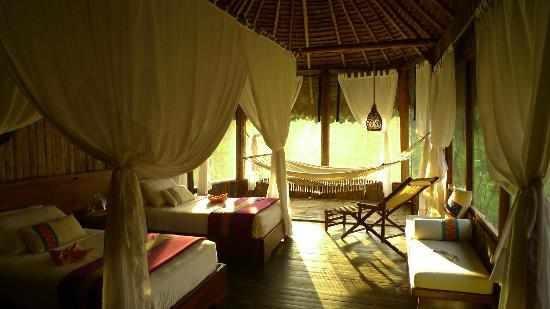 The somewhat more difficult hikes, which include overnight stays in tents or with the Achuar and which require a little more physical condition, take around 5-6 hours. For example, rivers are crossed and the tours are generally intended for agile participants who want to experience some adventure. Conventional rubber boots, which the Indians also use, are made available to you on site.
You can choose between a 4-day (Friday-Monday) or a 5-day tour (Monday-Friday) to choose from.
Important: In the event of unfavorable weather conditions, there may be time restrictions, reductions or unwanted extensions. The outward or return flight may have to be postponed at short notice, as the small fan guns land or take off on slopes in the jungle. Accordingly, it is important to plan at least one "buffer day" in Quito before and after the Kapawi jungle program.