The natural paradise of the Uyuni Salt Lake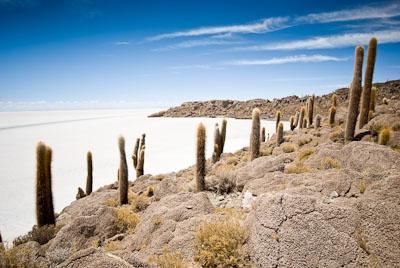 2 days from € 429, - pp
Features
The Uyuni Salt Lake area in the Potosí department is certainly one of the most beautiful and impressive areas on earth.

The desert areas, which are bordered by rugged, snow-capped mountains and in which suddenly colored lagoons and steaming geysers appear or natural hot thermal springs invite you to take a bath, are just as impressive as the vastness of the largest salt lake on earth with its small cactus islands.
All of these beautiful landscapes can only be seen on a one-week round trip that takes you all the way down to the Chilean border. Since there are only very basic accommodations in this area, this tour is only recommended for real nature and landscape fans who are willing to forego all comfort for a limited time. (Detailed program on request!) The salt lake of Uyuni is a very special highlight and can also be reached in a 2-day excursion from La Paz. The natural paradise lies at an altitude of 3.700 m and is also known as the "white sea" because of its large area of ​​around 10.000 square kilometers. Enjoy a walk in the solitude of the salt desert and watch the locals on the shores of the salt lake as they mine salt using ancient methods. Drive across the salt flat to the unusual "Isla Incahuasi", an oasis with flora and fauna that have been cut off from the environment by the salt lake for thousands of years.
With this impressive natural experience, it is not difficult to come to terms with the simple standard of the tourist infrastructure in this region.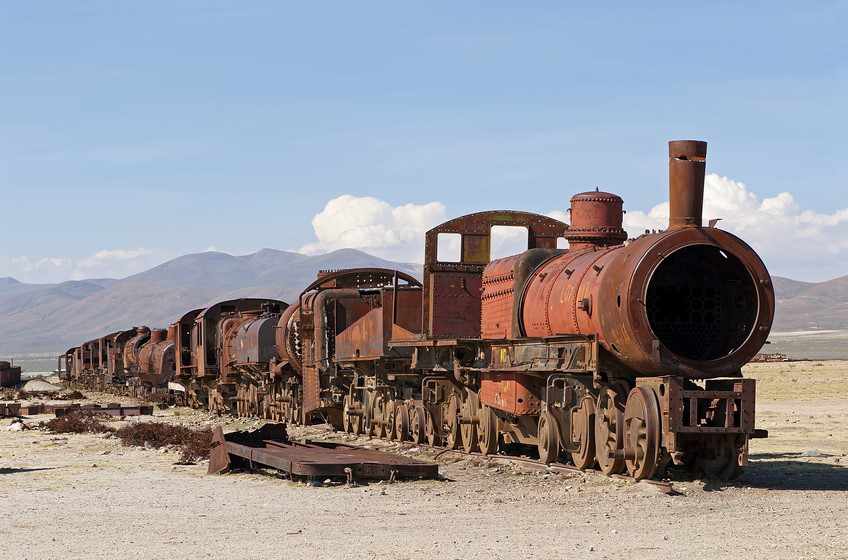 Tag 1
La Paz / Uyuni
Transfer from the hotel in La Paz to the bus station. Bus ride to Oruro, from where you have a direct train connection to Uyuni. On the train ride, you have wonderful views of the Bolivian Altiplano with its wide plains. White-banked lagoons visited by flamingos already suggest the proximity to the salt lake and the flora also indicates an increasing salt content of the soil. When you arrive in Uyuni, you will be expected at the train station and taken to your hotel. Overnight in Uyuni. F / - / -
Day 2
Uyuni / Salt Lake / Uyuni / La Paz
After breakfast you will visit the village of Colchami on the shore of the salt lake, where you will get an insight into the craft of salt extraction. Then the fascinating journey over the "white sea" begins, and although the mountains are clearly visible on the horizon, the distances are enormous and are quickly underestimated.
Hike across the salt desert and admire the sparkling salt crystals in the water holes. Your next destination is Isla Incahuasi, which is often mistaken for its fish-shaped neighboring island, Isla Pescado. The up to 8 m high cacti, which are one of the few plants that can survive on the lava island under such extreme conditions, are under nature protection and represent a wonderful photo opportunity in front of the huge salt desert. In the evening return to Uyuni train station. Return to La Paz overnight by train and bus.
As an alternative to this night return trip, we recommend continuing to the colonial cities of Potosí & Sucre. F / LB / -